How to submit your measurements?
In the Luscii app you will see several tabs. The home measurements are available for you for that day you will find under the tab 'Today'. Press 'Start' next to the action you want to submit and follow the instructions in the app.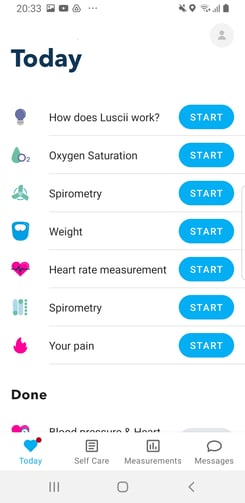 You can connect the following measuring devices directly to Luscii via Bluetooth:
- Blood pressure monitors: Omron HEM9210T and iHealth Track
- Oximeter: iHealth SpO2 Air
- Scale: iHealth Scale HS2 Lina
When sending the first measurement, you will receive instructions on how to pair the device.
You also have the option of using your own blood pressure monitor, pulse oximeter or scale. You can connect this via the Google Fit app (Android) or you can enter your data manually.
When can you send in measurements?
You agree with your healthcare provider how often and on which days you will submit your measurements via the app. under the tab 'Today' you can see which actions are expected of you to submit this day.
You can receive a reminder by email and as a 'push notification' on your phone when the measurements are ready for you. In the app you will see this under 'Today'. You will also receive a reminder email and notification if you have not yet sent your measurements.
If you are also going to video call the hospital, knowing when your healthcare provider can try to call you will be helpful. Coordinate this with your healthcare provider. You must remain logged in to be reachable for the hospital.