How does Luscii work?
Your healthcare provider will prescribe Luscii.
You install the Luscii app on your smartphone or tablet.
You can start monitoring at home. Monitoring at home is the transmission of measurements via the Luscii app, so that you do not have to go to your healthcare provider. Examples of measurements include: blood pressure, heart rate, weight or saturation. Questions or questionnaires can also be requested as a measurement, these are described in the Luscii app as Actions. Your healthcare providers monitor your values ​​remotely and will contact you if the values ​​are not good.
An app for all syndromes. Measuring at home, education and contact.
The "monitoring from home" app enables the transmission of measurements to your healthcare provider, from the comforts of your own home. Patients do their own checks, answer questions about their well-being and receive education. Is monitoring from home different? No, the artificial intelligence of Luscii vitals, our Clinical Engine gives an immediate signal to your healthcare provider when needed and with the built-in messaging service and video connection, your caregivers can directly contact you.
An accessible app
Luscii makes it as easy as possible for patients. When it's time to send in a measurement, questionnaire or time for an educational lesson, the app gives a signal. When sending it in, it's not necessary to enter data manually, almost all measuring equipment connects wirelessly to the app. With one click, the patient can send measurements, view simple graphs or read information about his or her condition.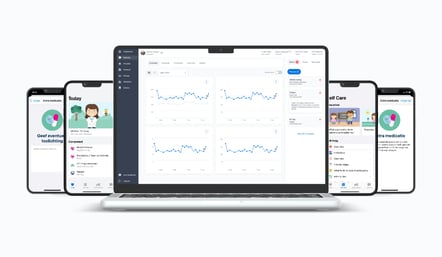 Education that every patient understands
Patients benefit from accessible information that provides guidance whilst living with an illness. This is why the Luscii app worked with their partners to develop educational lessons available for any patient that seeks information about theirs.
These lessons are also suitable for patients with limited reading skills.