At the top right of the App you will see a round icon with a gear wheel in it. When you click on this, you will enter the settings of the App.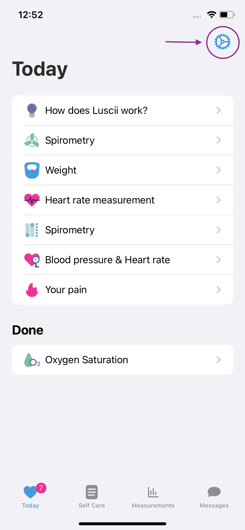 You will see the following options here: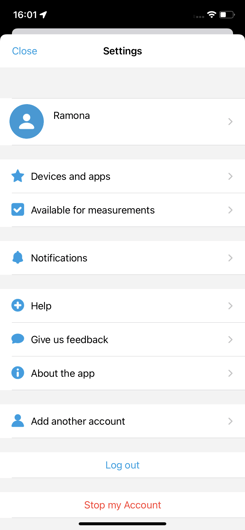 - Devices and Apps
With this setting you can see which devices are connected to the Luscii App. You can also unpair the devices here. For more information on how to disconnect your equipment, please refer to the Troubleshooting section.
- Available for measurements
You can add your absence here. For example, if you are on vacation, you can inform your healthcare provider here. You can see how to do this in this article.
- Notifications
Under the heading notifications, you can turn off email reminders or notifications. You can also switch on or off the sound that you hear when you receive a notification. This article explains how to set this up.
- Help
Here are the frequently asked questions. If you run into a problem, the frequently asked questions are answered here.
- Give us feedback
Here you can give a star rating for the App and any feedback about the App. For more information on exactly how to do this, see this article.
- About the app
Under this heading the user conditions, privacy statement, IOS version and App version are displayed.
- Add another account
If you need to take measurements for two programs, you can add an extra account to your App here. You can read how to set this up for Apple here.
- Log out
Here you can log yourself out. After you have logged out, you will be taken to our opening screen with the text 'enter your e-mail address or username'.
- Stop my Account
When you press this button, you stop your account. You will then no longer receive emails from us and your account will be terminated. More information about this can be found here.